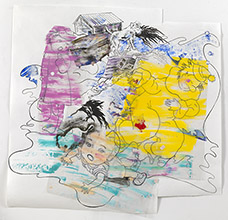 The mixed media collage at left evolved from an earlier black and white drawing created about a year after Hurricane Katrina. While the rest of the country was safe and dry, the media exposed us to a steady stream of images of destruction and despair: people struggling in deep water, trees uprooted, people and dogs on roof tops, houses demolished and personal belongings adrift. It took awhile for these images to work themselves into my art, but once they did, I started including boats filled with creatures escaping large waves and heading out to unknown destinations.
The cut paper pieces completed in 2007 and 2008 (below) evolved from three years of exploring ideas through walnut ink drawings and paintings on paper. This work is becoming less traditional both in subject matter and form as I gradually lose the rigidity of the rectangle, and penetrate the interior with a knife.
As in other work from recent years, the subject matter which shapes my imagery emerges from current social and environmental issues. In this series I have touched upon such wide ranging themes as: anorexia, teen subculture, urban blight, consumerism, climate change, extinction of species, energy consumption, homelessness and the need for peace on earth.